We are very pleased to be providing the
Electrical and Mechanical installations
to a new home from home "Jeans house" in Southampton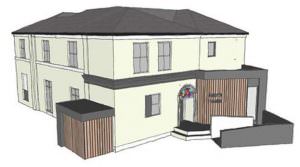 We are working with RV Dart builders to provide this multi occupation home.
A little about the Jeans house Southampton project from CLIC Sargents website;
Jean's House will have seven en-suite family bedrooms (sleeping up to four people), two open plan kitchen/diners, two lounges and a teenagers' space, helping families spend more time together and avoid often debilitating travel and accommodation costs.
Planning permission for the transformation was granted by Southampton City Council in October and now CLIC Sargent have launched a fundraising appeal to cover the £1.6million cost for buying and fully adapting the building.
Over £1.2million pounds has already been raised thanks to generous support from donors including: Children with Cancer UK, Signet and Sir Jules Thorne Charitable Trust and now we are seeking to raise the remaining £400,000 to fully renovate and furnish the house.
The new home will replace the charity's existing Home from Home at CLIC Haven which opened in the grounds of Southampton Hospital in 1991. CLIC Sargent's lease of the property from the hospital has come to an end and the charity is taking the opportunity to create a 'bigger and better' home at Jean's House to meet growing demand for accommodation from desperate families.
Occupancy for the house has been over 90% in recent months and as the charity grows they support more young people which also creates higher demand.
CLIC Sargent's UK Home from Home Manager, Cecilia Milburn, said: "With the public's support, we will transform the property into a welcoming haven for families going through a really tough time. Jean's House has been specially-designed to be bigger and better than before, offering more space and comfort for families. We are asking for the public's help to house even more families in desperate need, saving them hundreds of pounds and bringing crucial home comforts in a time of great turmoil"
T & W Electrical involvement
We are carrying out the New installation of Electrical dimmable LED energy efficient lighting, Small power and Fire alarm systems along with a cabled WiFi installation.
We are also installing New Mechanical services from Heating, Domestic hot and cold water system along with ventilation and heat recovery systems.
The project is full design and build with overseeing from ION Consulting engineers.
Project design drawings have been developed by us from our own drawings department to fully compliant and coordinated installation drawings
Mechanical and Electrical plant and equipment has been sourced and approved by ION consulting engineers prior to installation, along with full design data