T & W Electrical in the process of a new Electrical installation comprising of;
Lighting, Small power and Data cabling to Cotswold outdoors main dispatch center
Lighting calculations using 3d imaging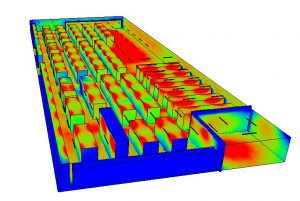 We select the latest LED lighting equipment and pass it through the light calculating software. This ensures the areas meet lighting level legislation. Our Electrical installation works are planned and designed before works commence.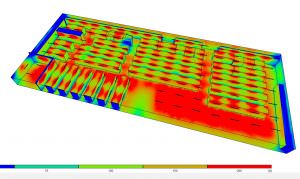 We have completed phase 1, The main warehouse lighting project.
Works comprised of the design, product selection and electrical installation of;
New PIR controlled LED lowbay lighting to storage racking areas with ceiling heights of around 9 meters
New Emergency flood lighting
Fire alarm modifications including re location of beam detectors
Small power to desk areas with cat5e structured data cabling
Full electrical installation and certification provided on completion and handover
Phase 2 works are to the mail order department are currently underway;
Works to the mail order have been carried out at weekends to maintain order processing
Full electrical installation
Data and power to existing work stations are being modified around the customer limiting down lime
New work stations have been fitted with LED batten lighting, cat5e data points and small power all to run the customers computer systems.
Fire alarm modifications along with new additional emergency lighting systems are being installed.
Product selection
We use products especially LED lighting from manufacturers with a proven and traceable track record.
We have found lately LED products being imported and sold with warranties are failing, in this event some companies no longer sell the items and only offer an alternative or refund.
Whilst this is something its not much help when the replacement looks nothing like the rest of the installed products.
We are not specifically tied to any manufacturers leaving us free to provide the best budget fitting, cost effective products.