St Gabriels Church in Popley. Basingstoke is completed and handed over

T & W Electrical have designed and installed both the Electrical and Mechanical systems for St Gabriels Church
This is known within the church as Project G
The St Gabriel's church extension story has been published in the Basingstoke Gazette as the link below
A couple of Images of the extended areas and mechanical installation commencing in the toilet areas.
We have developed coordinated drawings and installed all systems to these layouts.
New lighting and small power has been provided along with a new addressable fire alarm system
Mains distribution has been upgraded to meet the current regulations
Full heating controls have been added to make the building as flexible as possible for the client
A new plant room incorporates new heating equipment
Radiators are new Low surface temperature (LST) units so occupants are safe and the ascetics aren't compromised by radiators and cages.
Pipework has been routed in the screed to remove ceiling to floor pipe drops having to be boxed in to shield hot pipes from occupants.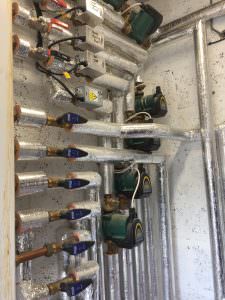 Click the link to go to…..